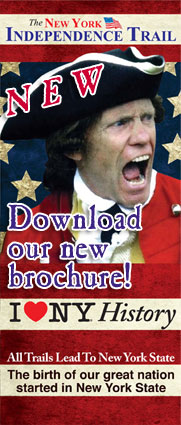 Your Complete Guide To New York State's Historic Sites.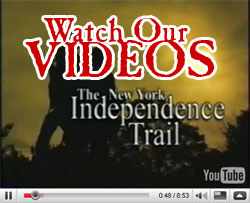 The New York State Independence Trail provides your roadmap for a self-guided tour of some of the most important sites of the French and Indian war and Revolutionary war — from authentically restored forts and historic battlefields to grand government buildings and period homes.
The Historic Trail can be accessed all along the north-south route between New York City and the Canadian border, or traveled in its entirety for a complete heritage tourism experience.
The story of New York's Independence Trail begins in 1754 at the start of the French and Indian War. The French, allied with Native Americans, tried to wrest control of the New World from Great Britain by heading south through the Champlain Valley. Key battles were fought at Fort Ticonderoga in Ticonderoga, and Fort William Henry in Lake George.
England's victory set the stage for the Revolutionary War roughly 20 years later. In 1775, Ethan Allen and the Green Mountain Boys caught British soldiers sleeping at Fort Ticonderoga, and captured the fort on behalf of the Continental Army.
Two years later, the turning point of the Revolutionary War was played out at the Battle of Saratoga, where three British units had planned to converge in a southward assault on New York City. The patriots' thwarted the British and their victory set the stage for the Birth of Our Great Nation.